Journey to the Center of the Earth out in March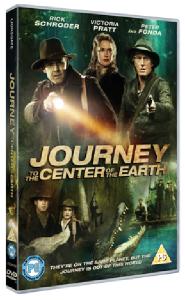 THEY'RE ON THE SAME PLANET, BUT THE JOURNEY IS OUT OF THIS WORLD
JOURNEY TO THE CENTER OF THE EARTH
RELEASE DATE: 23rd MARCH 2009
Take a step into the unknown with an intrepid team of explorers as they venture where no one has dared go before. But miles below the Earth's surface is an endless chasm of living, breathing dangers that are out of this world.
Set in the late 1870's, wealthy Martha Dennison
(Victoria Pratt)
hires anthropologist Jonathan Brock
(Rick Schroder)
to track down her husband, Edward
(Peter Fonda),
who has disappeared while searching for an elusive passage to the centre of the earth four years earlier.
As the expedition retraces Edward's last known steps, they uncover an extraordinary world and a primitive civilization, the like of which has not been seen since the dawn of time. They also make a shocking discovery about Edward and find themselves in a desperate bid to escape a myriad of dangers as they fight for their lives to see the light of day.
Produced by the makers of Flood and Crusoe, this dynamic adaptation of Jules Vernes' classic science-fiction adventure boasts a fantastic cast headed by
Rick Schroder
(24, NYPD Blue),
Victoria Pratt
(Day Break) and
Peter Fonda
(3:10 To Yuma).
Over half a million viewers tuned into Sky One and Sci-Fi Channel to follow the action-packed drama when
Journey To The Center of the Earth
was broadcast as a mini-series. Now it's yours to own on DVD, released by Lions Gate Home Entertainment on 23rd March 2009.
DVD TECHNICAL INFORMATION
Release Date: 23rd March 2009
Catalogue No: LGD94105
Barcode: 5060052416315
ght: RRP: £10.89
Running Time: 86 Mins Approx
Rating: PG
Aspect Ratio: Anamorphic 1.78:1
Audio: Dolby Digital 5.1 Surround
Language: English
Subtitles: None
Distributor: Lions Gate Home Entertainment
Copyright: © Lions Gate Home Entertainment UK Ltd. All Rights Reserved
About Lions Gate Home Entertainment UK Ltd.
Lions Gate Home Entertainment, a Lionsgate company (NYSE and TSX:LGF). Lionsgate is the premier independent producer and distributor of motion pictures, television programming, home entertainment, family entertainment and video-on-demand content. Its prestigious and prolific library is a valuable source of stable, recurring revenue and is a foundation for the growth of the Company's core businesses. The Lionsgate brand name is synonymous with original, daring, quality entertainment in markets around the globe. Lionsgate can be found on the World Wide Web at
http://www.lionsgate.com
About Power
Founded in 1995, Power has produced an impressive, premium slate of feature-film quality mini series over the past six years and has been distributing television programming internationally for 12 years. Power's current slate includes the 13-part network series, "Crusoe," co-produced by Power, Muse and Moonlighting for NBC and "XIII: The Conspiracy," starring Val Kilmer and Stephen Dorff. Collaborating with the world's most respected broadcasters, Power's productions and co-productions include the International Emmy Award-winning mini series "Henry VIII" (ITV), Power's original action-packed epic disaster mini series, "Flood" (ITV) starring Robert Carlyle, International Emmy-nominated "Virgin Queen" (BBC), World War II epic "Colditz" (ITV), the adaptation of Robert Harris' contemporary thriller "Archangel" starring Daniel Craig (BBC), lively drama "Casanova" starring Peter O'Toole (BBC) and the multiple award-winning "The Incredible Journey of Mary Bryant" (ITV/Network TEN). Power's ongoing TV movie slate, includes six movies which were produced for the Lifetime Channel in the US last year. The company supplies primetime drama to more than 100 broadcasters and millions of TV viewers across the world and has produced more than £125 million worth of high quality TV drama to date. Visit www.powcorp.com.