Find Your Way Back To Sesame Street Old School!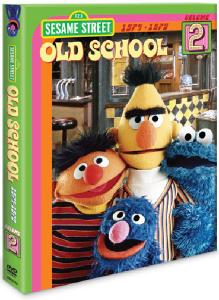 Volume Two of Old School includes over 8 hours of classic episodes from 1974-1979
Released on 23rd March 2009 by Abbey Home Media, the second in the series of
Sesame Street Old School
releases invites fans to take a fondly nostalgic return trip to one of the world's best known streets. Picking up where Volume One left off, including all the grooviest Sesame Street memories from 1974 to 1979, when friends such as Don Music, Roosevelt Franklin, Guy Simley and Fat Blue inhabited the street. Break out your dancing shoes for far-out classics, "What's the Name of that Song" and "Telephone Rock", and rediscover the Sesame Street of the 1970's.
Sesame Street Old School Volume Two
is a 3 DVD set, with episodes 6-10 beautifully restored, and filled with over 8 hours of classic Sesame Street material. Including celebrity guest appearances by Lily Tomlin, Carol Burnett, Paul Simon, Richard Pryor, Ray Charles and many more, plus 57 bonus segments, and the first ever Sesame Street episode ever created, and never before broadcast!
Sesame Street first broadcast on 10th November 1969, laying the foundations of contemporary educational entertainment with a cast of colourful characters. Volume Two is perfect for anyone that loved Sesame Street as a child, and will be available to own on DVD from 23rd March 2009, courtesy of Abbey Home Media.
Title: Sesame Street Old School Volume 2
Format: Triple DVD
Release date: 23rd March 2009
Cert: U
Running time: 484 minutes
RRP: £19.99