John Woo and Terence Chang Bring Us Blood Brothers in March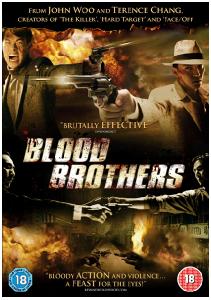 BLOOD BROTHERS
From John Woo and Terence Chang - creators of 'The Killer', 'Hard Target' & 'Face/Off'


DVD Release date: 23rd March 2009
Running time: 95 minutes
DVD RRP: £15.99


Cert:

18 TBC

"Bloody action violence… A feast for the eyes" - BeyondHollywood.com
"Spectacular shoot-outs… Exquisite" - Film Critics United
From producers John Woo and Terence Chang, the visionary minds behind undisputed action masterpieces 'Hard Boiled', 'Mission: Impossible II' and 'Red Cliff', comes a new classic of heroic bloodshed cinema.
1930s Shanghai: a glittering city of vice and decadence. Three innocent young men arrive to this seeming paradise in search of a better future. But as time goes by, their paths diverge, even as they all descend into a life of crime. Soon, friends turn against friends, brother against brother. The blood bonds are now but relics from their early days of innocence. Once they hoped for a better tomorrow: now tragedy and betrayal have become a way of life.
Crafted by the acclaimed talents behind such breathtaking spectacles as 'Crouching Tiger Hidden Dragon', 'House Of Flying Daggers' and 'Brotherhood Of The Wolf', 'Blood Brothers' is a bullet-soaked journey into a thrilling gangster's paradise.
Extra Features
'Behind The Scenes' Featurette
Trailer