Anime Review Roundup
Welcome To The Space Show Coming To The UK
And as usual it's courtesy of Manga Entertainment, who this week announced their acquisition of this title over the ubiquitous Twitter service. Welcome to the Space Show is a sci-fi family adventure film, which sees a group of childhood friends adventuring beyond the final frontier. This title is noteworthy, as it's the first title in years for which Manga Entertainment have themselves commissioned an English language dub, rather than relying on an existing US dub.
Details from ANN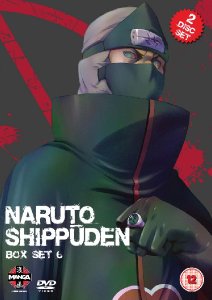 Thirty-seven episodes of anime have been reviewed for you this week. A few years ago that would have been nine volumes worth, and more money drained from my bank account than I care to consider. We live in such enlightened times now, where thirty-seven episodes now comprise three reviews, the first of which is
Naruto Shippuden: Collection 6
. The bright orange ninja's quest to redeem his best friend Sasuke continues ever onward. You know, the Harry Potter saga eventually finished. Naruto was initially sold as the ninja Harry Potter. Just a word to the creators, you might actually want to wind the story up one of these decades. Not that this is the place to be winding things up, as Collection 6 is where Naruto Shippuden gets to the meat of the story.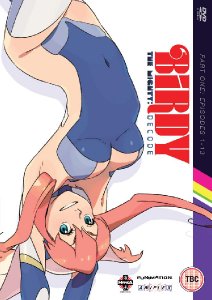 You may detect a certain lack of enthusiasm for my 300th-odd episode of Naruto, but there's nothing but enthusiasm in my next review. I got to look at
Birdy The Mighty: Decode - Part 1
, the newest secret agent on the block. Birdy's an intergalactic agent, here undercover on Earth to find a stolen bit of technology, and arrest the thieves. Alas, a young high-schooler named Tsutomu gets in the way of the arrest, and gets partially disintegrated for his troubles. Now Tsutomu has to time-share with Birdy in her body while his own is being reconstructed. It makes hunting criminals a little hard for Birdy, while High School has suddenly become a whole lot more awkward for Tsutomu. It's a great, fun, action show, and you can read more about it by clicking the review.
Finally, I got to look at
Casshern Sins: Part 2
, although this time it was on DVD. The Blu-ray release for Part 2 got cancelled following poor sales of part 1, which is a shame given how beautiful an animation this is. The thing about Casshern and its post-apocalyptic melancholy of narrative is that it's based on a classic anime tale, and the characters all have a very simplistic and old-fashioned approach to them, which certainly stands out against more modern shows. The story had promise though; especially in part 1, and the visual splendour of the animation went a long way in offsetting the storytelling style. See if the same is true for the second half of Casshern Sins by clicking you know what.
Manga Entertainment release both Naruto Shippuden: Collection 6, and Birdy The Mighty: Decode Part 1 today, while they will release Casshern Sins: Part 2 next Monday, 18th July.