Terrence Malick's To The Wonder comes to Blu-ray and DVD this June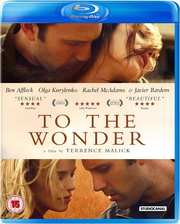 Fans of writer and director Terrence Malick will be thrilled to hear his latest work is coming to DVD and Blu-ray this 17th June. And this represents the third collaboration between Malick and director of photography Emmanuel Lubezki.
Turning up courtesy of
StudioCanal
,
To The Wonder
stars Ben Affleck, Olga Kurylenko, Rachel McAdams and Javier Bardem.
Both formats include a making-of featurette and a UK exclusive interview with Kurylenko. The DVD comes with a 107 minute runtime due to PAL speed up, 5.1 Dolby Digital and Dolby Stereo soundtracks, with a RRP of £17.99.
Whilst the Blu-ray has a slightly longer 112 minute runtime, is a Region B title, with a DTS HD Master and LPCM Stereo soundtracks, whilst the recommended retail price for this HD version will be £22.99.
Synopsis and trailer follow...
The film is centred on Neil a man who is torn between two loves: Marina, the European woman who comes to United States to be with him, and Jane, the old flame he reconnects with from his hometown. Neil's doubts about his life and loves are reflected in the crisis of faith experienced by Father Quintana, who only sees pain and the loss of hope in the world.
Academy Award nominated director Terrence Malick is renowned for making brilliant and unique films using unconventional methods, and To The Wonder is no different. Here Malick explores how love and its many phases and seasons, passion, sympathy, obligation, sorrow, indecision, can transform, destroy and reinvent lives.