Anime Review Roundup
More New Anime Limited License Rescues
With their Twelve Days of Christmas price promotion came a couple of licence announcements last week, Genius Party and Buddy Complex, and Anime Limited haven't let up this week either, offering two titles that fans have vocally clamoured for the last few years.
First up is
Eureka Seven
on DVD and Blu-ray. This former Beez title will now get a UK Blu-ray debut and DVD re-release next year. Manga Entertainment have released the feature film in the past, as well as the Eureka Seven AO sequel, but for many, it was the series that came first that was the best. You can read more about this classic mecha series on
Anime Limited's blog post
.
I'm still not a mega mecha-fan, but Anime Limited's second announcement had me melting into a pile of appreciative goo. They're bringing back the original (and in my opinion the best)
Full Metal Alchemist
. The 51-episode show was originally released here partially by MVM, and then completed by Revelation. It's also one of those anime that ran out of manga to adapt halfway through, and then had to come up with an original story, and it's was the smaller-scale and character focused, dramatic story that I actually prefer to Brotherhood (not that I don't love Brotherhood). Those original NTSC-PAL converted DVDs are in desperate need of a remaster, which we should get from Anime Limited, but they're also releasing it on Blu-ray. The recent US Blu-ray release of the show had me this close to getting a Region A player, but now I won't have to...
Here's the blog post
.
With the Noein Blu-ray and now the Full Metal Alchemist Blu-ray due from Anime Limited, I'm all sorted for anime nostalgia in 2016!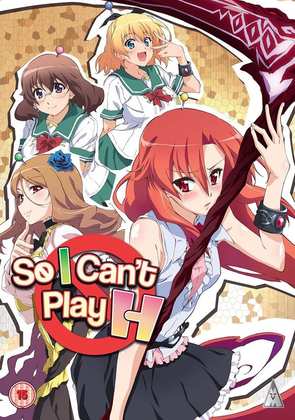 Two reviews for you this week, of two MVM titles released over the past two weeks, and both are harem comedy shows. You have to raise an eyebrow at the schedules sometimes.
So I Can't Play H
is the more ambitious of the two, putting some thought into its Bleach-like story set-up of female Soul Reapers coming to the world of the living, looking for a source of energy, and happening upon a teenager with the power of perversion at his command. The show also does something different with its characters than the usual harem anime, not too bothered with broadcast standards. But the disc authoring isn't great, the anime itself looks awful, and it makes the cardinal sin of getting serious about the story in the second half.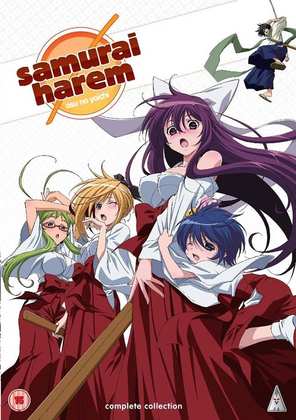 On the other hand
Samurai Harem
is more a conventional harem comedy, with its male lead conforming to the usual harmless neutered pervert stereotype, there merely to receive beatings from the tsundere members of his harem. It's suitably chaste in terms of how much flesh it reveals, opting to leave it all to the viewers' imagination, the harem conform to the usual anime stereotypes and the story conforms to the usual harem anime tropes. But Samurai Harem remembers to be funny all the way through, and it isn't too bothered with actually developing a storyline.
This Week I've Been Mostly Rewatching...
The same things as last week. It was bound to happen eventually. This paragraph will return next week.
MVM released So I Can't Play H Collection on DVD last Monday 7th of December, while they release Samurai Harem Collection today.