Anime Review Roundup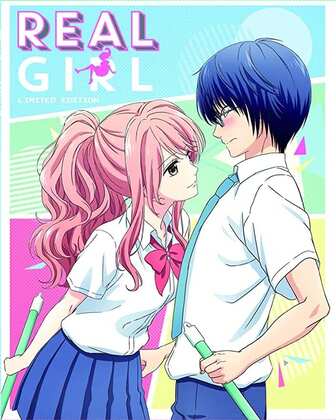 Next week looks to be a little more fecund when it comes to new anime reviews, but this week it's still just the one, as I take a look at MVM's release of
Real Girl
. It's a romantic comedy with a touch of drama. An otaku in high school sees his life change when he unexpectedly gets a girlfriend, the girl in school who is popular with boys, unpopular with girls and consequently has no friends. And as so often happens when two people find love, they find that they draw other people to them, and wind up making friends. But she has a condition to their relationship; they can only be together for six months. Real Girl manages to entertain, and is a rare anime that progresses its romantic relationships, but there are a few flaws. Click on the review to see what they are.
This Week I Have Been Mostly Rewatching...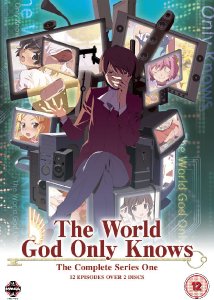 The World God Only Knows Season 1. Sometimes it's just one thing that draws you to a show, a little idiosyncrasy that grabs the attention. With The World God Only Knows, it's a girl who is fascinated with fire engines. It's such an odd character trait that it just sticks in the mind, and elevates even an average show. The World God Only Knows certainly isn't average; it's run to three seasons and an OVA after all, but the harem comedy format certainly isn't under-subscribed. It's all about an otaku gamer named Keima who spends his life playing dating simulations, devoting his time to 'conquering' girls. And for some reason, the higher-ups in Hell think he can do it in real life. The 'fire engine loving' demon girl Elsie comes to Earth and forges a contract with him, so he can romance real girls possessed by Lost Souls. These Lost Souls pose a great danger, and are only exorcised at the moment the possessed experience a moment of true love, and it now falls to a video game addict to apply his gaming skills to the real world.
Watching a guy try and seduce a bunch of girls, one at a time could be the recipe for a prurient mess of a show like Photo Kano, but the characters in The World God Only Knows are really well done, the sense of humour is appealing, and the story unfolds in a very enjoyable way.
Here's my review for Season 1
. It was released here by Manga Entertainment on DVD back in 2012. It's deleted now, but some retailers still have stock. Otherwise second hand is your best bet. Sentai Filmworks gave the show a Blu-ray release in the US, but it is Region A locked, again, if you can find it.
MVM released the Collector's Edition of Real Girl on Blu-ray on January 18th.