Anime Review Roundup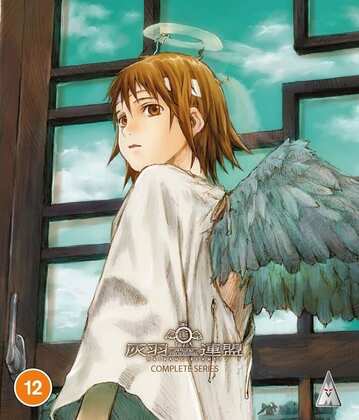 I came to
Haibane Renmei
a little late, a couple of years after its DVD release from MVM, although I had seen the first volume of four a couple of years previously. That should be indication enough that this show is a slow burner, and is best watched as a series, rather than in single volume instalments. That makes it convenient that now MVM are revisiting the show on Blu-ray, they follow the prevailing trend of releasing such series as complete. Haibane Renmei presents a mysterious isolated town, where angelic figures called Haibane are 'hatched' into a walled world where they must live by certain rules alongside a human community. It starts off as a fascinating world building story, but the character development that happens in the background comes to the fore as the series progresses, to make for a very emotive and satisfying story. You absolutely have to get this show, although whether it should be on Blu-ray is another matter. Click on the review to read more.
This Week I've Been Mostly Rewatching...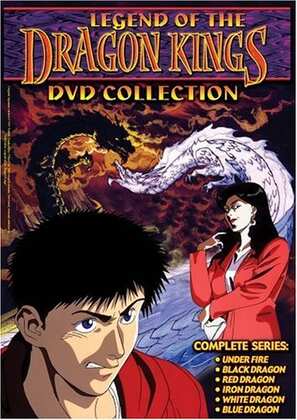 The Legend of The 4 Kings. This is special. This is my first anime. Certainly I had seen a whole lot of anime beforehand, presented as teatime serialised stories on children's television, without ever knowing it was anime. I had also dipped my curious toe into a couple of movies in Akira and The Wings of Honneamise when shown on the BBC. But The Legend of the 4 Kings was my first anime TV series, which I explicitly knew was anime, when it was shown as part of Channel 4's Late Licence strand. They followed it up with Cyber City Oedo 808 and AD Police, and I was hooked, and it wasn't long before I had discovered this company called Manga Video, and was buying VHS tapes. And that is where I am with The Legend of The 4 Kings, although just before my VHS player died, I took some time and backed up the tapes to DVD-R.
For a show that set me on a lifelong passion, The Legend of the 4 Kings really isn't that good. I may have been fascinated by its more 'adult' story at the time, putting the boot in the doctrine of 'cartoons are for kids' well and truly, with gory violence, a profane dub, and a bit of sex as well. But thirty years later, you can really see how it is little more than one of those teatime kids TV anime, tarted up for an adult audience. The characters and the story are really quite dumb, repetitive and formulaic. Four orphan brothers try to live normal lives, but they have a mystical heritage that draws unwelcome attention. They can turn into dragons, with all the powers that implies. Every week, some villain of the week comes up with a new plan to awaken and exploit their powers, and every week, they start off trying to live their normal lives again, failing to learn from their experiences. They also have a cute cousin, supplying the female contingent, and she contrives to be kidnapped each week, requiring the brothers' rescue. As the series heads to its conclusion, the story gets more and more bizarre, ending up with an anti-war polemic of the sort that was standard in Japanese anime of the period, appropriate today maybe, but not accomplished with any effectiveness. That's all before the worst ending to any anime I have seen, even after thirty years.
Manga Video released the show on VHS in the mid-nineties, with one of their patented, rock music soundtrack replacements a keen selling point. The VHS sleeves also folded out to reveal a serialised printed story across the six volumes. It's going to be a mission to find them second hand today, and a way to play them. And then you'll have to put up with Manga's dub, one of their worst, and a key reason why I tend to watch anime in Japanese only. But it is notable for having British idiom uttered in faux American accents. That wasn't enough for Central Park Media in the US who released the show as Sohryuden - Legend of the Dragon Kings, who kept the original music, and commissioned a p***-poor dub of their own. But, they did release it on 6 DVD volumes over the space of three years, and then a complete boxset in 2004. You might have better luck finding that second hand.
MVM release Haibane Renmei as a Collector's Edition Blu-ray today.