My Darling Clementine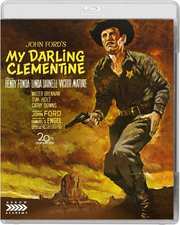 Plus: Frontier Marshal
Certificate: PG
Running Time: 97 mins
Retail Price:
Release Date: 17/08/2015
Content Type: Movie
Synopsis:
Arrow Video is thrilled to announce the UK Blu-ray premiere release of iconic Wyatt Earp epic My Darling Clementine, director John Ford's celebrated return to the Western genre following his equally acclaimed and iconic Stagecoach. Starring Henry Fonda as the legendary lawman in arguably the most famous of his on-screen portrayals.

This 1946 classic comes in a glorious new 4k digital transfer, alongside two different cuts of the film, the original version that premiered in December 1946 and the longer 'pre-release' cut that had played to preview audiences. Both versions, along with a host of extras which are detailed below, come packaged together as an exclusive slipbox edition, limited to 3,000 copies.

Alongside both cuts of the film, this new version will also include another Wyatt Earp tale Frontier Marshal, Allan Dwan's 1939 film starring staring Randolph Scott and Cesar Romero. These restored western masterpieces will be available on Blu-ray from 17th August 2015.
Special Features:
Special Features
• High Definition (1080p) Blu-ray presentations of My Darling Clementine's theatrical and 'pre-release' versions and Frontier Marshal
• Original uncompressed PCM mono 1.0 sound
• Optional English subtitles for the deaf and hard of hearing
• Reversible sleeve featuring original and newly commissioned artwork by Jay Shaw


BLU-RAY DISC 1: MY DARLING CLEMENTINE (THEATRICAL VERSION):
• 4K digital film restoration
• Commentary on the theatrical version by author Scott Eyman and Earp's grandson, Wyatt Earp III
• John Ford and Monument Valley – a 2013 documentary on the director's lifelong association with Utah's Monument Valley containing interviews with Peter Cowie (author of John Ford and the American West), John Ford, John Wayne, Henry Fonda, James Stewart and Martin Scorsese
• Movie Masterclass – a 1988 episode of the Channel 4 series, devoted to My Darling Clementine and presented by Lindsay Anderson
• Lost and Gone Forever – a visual essay by Tag Gallagher on the themes that run through My Darling Clementine and the film's relationship with John Ford's other works
• Stills gallery
• Theatrical Trailer


BLU-RAY DISC 2: MY DARLING CLEMENTINE ('PRE-RELEASE' VERSION), FRONTIER MARSHAL AND OTHER WYATT EARP TALES [LIMITED EDITION EXCLUSIVE]:
• 2K digital film restoration of the 'pre-release' version of My Darling Clementine
• What is the Pre-Release Version? – a documentary by Robert Gitt, Senior Film Preservation Officer at the UCLA Film and Television Archive, comparing the two versions of My Darling Clementine
• High Definition digital film transfer of Frontier Marshal, Allan Dwan's 1939 Wyatt Earp film starring Randolph Scott
• Two radio plays inspired by Wyatt Earp – a 1947 adaptation of My Darling Clementine starring Henry Fonda as Earp and Richard Conte as Doc Holliday, and a 1949 Hallmark Playhouse production in which Conte played the role of Earp
• Frontier Marshall Theatrical Trailer

40-PAGE BOOKLET [LIMITED EDITION EXCLUSIVE]
• Booklet containing new writing on My Darling Clementine by Kim Newman (author of Wild West Movies) and on Frontier Marshal by Glenn Kenny, plus an extensive archive interview with screenwriter Winston Miller, illustrated with original archive stills and posters

Video Tracks:
1.37:1 Black and White

Audio Tracks:
1.0 Mono English

Directed By:
John Ford

Written By:
Samuel G. Engel ... (screen play)

Winston Miller ... (screen play)

Sam Hellman ... (from a story by)

Stuart N. Lake ... (based on a book by)

Starring:
Henry Fonda
Linda Darnell
Victor Mature

Soundtrack By:
Alfred Newman
Cyril J. Mockridge

Director of Photography:
Joseph MacDonald

Editor:
Dorothy Spencer

Producer:
Samuel G. Engel

Distributor:
Arrow