Hawks and Sparrows / Pigsty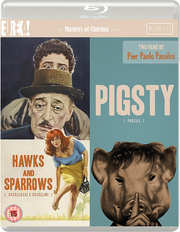 aka Uccellacci e uccellini / Porcile
Certificate: 15
Running Time: 187 mins
Retail Price: £17.95
Release Date: 22/02/2016
Content Type: Movie
Synopsis:
From its sung opening credits, Hawks and Sparrows (Uccellacci e uccellini) is a wonderfully free-form picaresque fable that lampoons politics, religion and the state of modern Italy, as the beloved comic actor Totò, Pasolini regular Ninetto Davoli and a talking crow wander the landscape through a gauntlet of unexpected encounters.

Pigsty (Porcile) is one of his most controversial works, interspersing the mute wanderings of cannibalistic savages against a barren, volcanic earth with the tale of Julian (played by Nouvelle Vague icon Jean-Pierre Léaud), his radically politicised fiancée Ida (Anne Wiazemsky, Au Hasard Balthazar), and the financial machinations of his father Herr Klotz in contemporary industrialised Germany.

Both films demonstrate a restless, pioneering artist's exploration of the natural world contrasted with the societal structures that govern human life. Visually inspired and playing by no-one's rules other than his own, these two brilliant works by Pasolini are presented on Blu-ray for the first time in a new limited edition.
Special Features:
High-definition transfers of both films, with uncompressed monaural soundtracks

· Optional English subtitles
· Theatrical trailers
· PLUS: A booklet featuring essays on both films by Pasquale Iannone, a 1969 interview by Oswald Stack with the director about Hawks and Sparrows; an English translation by Iannone of a 1974 interview with Pasolini discussing Totó; a 1969 note on Pigsty by Pasolini circulated at the Venice première; an extract from a 1969 interview by Gian Piero Brunetta with Pasolini; and rare archival imagery

Video Tracks:
1.85:1 Black and White / Colour

Audio Tracks:
Italian Mono

Subtitle Tracks:
English

Directed By:
Piere Paolo Pasolini

Starring:
Totò
Ninetto Davoli
Jean-Pierre Léaud
Anne Wiazemsky
Au Hasard Balthazar

Distributor:
Eureka! The Masters of Cinema