Review for Breathless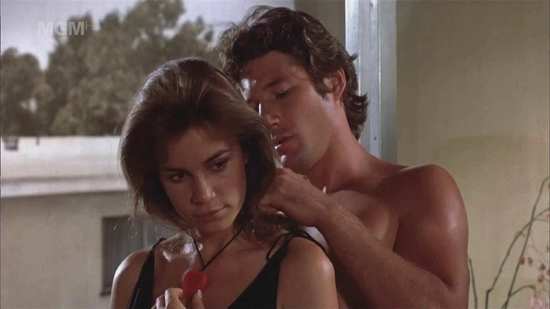 'Breathless' is (and always was) a maddening film in so much as it carries one of Richard Gere's finest performances and yet … and yet … it somehow also fails to deliver on its initial promise, leaving you with that nauseating feeling of having watched a film that doesn't quite make the grade. This is extremely hard to articulate so bear with me.
It was a bold move, in any case, to have the tenacity to attempt to re-make such a revered Jean Luc-Godard film, A Bout De Souffle (1960), written in collaboration with Francois Truffaut. It was almost inevitable that it would land with critics, much like Gus Van Sant's 'Psycho', as mis-guided at best and a complete waste of time and money at worst. But for many of its audience, Gere was the draw, fresh off the back of his success with 'An Officer and a Gentleman' the previous year – most his audience with little knowledge of the original.
The truth is that Gere was in his element in the lead here (taking the central role previously played by Jean Paul Belmondo in the original); an over-the-top, narcissistic performance that saw him universally slated by critics at the time. Which is the bit I think is possibly unfair because, for all the film's faults, Gere played the part as it needed to be played. But it was going to be a tough fight whatever he did. The fact that he, apocryphally, auditioned more than 200 ladies to play opposite him seems totally in keeping with the role too.
Released in 1983, the film exudes the era without really trying to, in terms of its cinematography and pace. Gere plays the part of petty car thief, Jesse Lujack, a seemingly care-free, fun loving man about town. The film opens with him driving a stolen Porsche across the Nevada desert, so badly back projected as to be almost laughable by today's standards. Despite being a pain in the ass, totally irresponsible, arrogant and narcissistic in the extreme, Jesse remains likable. It's easy to side with his no-nonsense, stick-it-to-the-man approach to life, further enhanced by a vulnerable, almost poetic side, allowed free-reign in his analysis of Silver Surfer comics – a nice touch.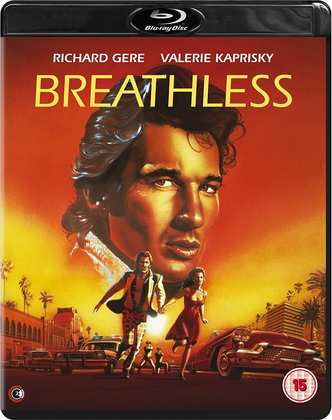 When he's pulled over by a traffic cop, a gun he has found in the glove compartment seems to go off of its own accord and the shot kills the policeman. He is now not only a ringer for stolen cars, but a murderer on the run. He decides its time to break for the (Mexican) border but not without the love of his life, a smart French student, Monica Poiccard (Valérie Kaprisky), who you would have thought would have little in common with him.
Turning up at her campus out of the blue, he wreaks havoc and against all the odds, she decides to run with him. Form here on in, the chase is on and they are soon on a wild, exhilarating journey with the law never far behind.
Throughout, Jerry Lee Lewis's incendiary music is used (by Jesse in his car) as the backdrop for some high octane, if completely irresponsible, excitement which, despite leaving them utterly 'breathless' also proves to be the couples undoing.
The story can only end one way and it does, unapologetically so in fact, in a moment utterly in keeping with Jesse's rebel character to the point.
The problem with the film is that. In common with other overblown films of the time ('Absolute Beginners') is that it feels like there is far too much style over substance and as a result it never really feels 'real' – but rather a stagey, falsified piece set to music. Of course, some (Quentin Tarantino, Mark Kermode) like the film for precisely this reason, though for me, it meant a film with such early promise ends up being a disappointment. That was exactly the feeling I had when it was released too. Not an awful film by any stretch, but just not as good a it could have or should have been.
Of course, Gere fans get to see rather a lot of him (completely naked on several occasions) and plenty of potent soft -core style love-making with Kaprisky too. So not all bad. But ultimately, even that is not enough to rescue the film, whatever Mark Kermode might have you believe.
The film looks stylish enough, and never better than on this HD edition, with saturated colours giving it a look not dissimilar to Coppola's 'One from the Heart' – another travesty of style over substance.
The audio is excellent too and never better than when the film blasts another well-chosen tune (Jerry Lee Lewis, Elvis, Dexy's, Link Wray, Sam Cooke, LA punk band X, and even a track by Phillip Glass. In fact, the OST CD is probably a more worthwhile purchase than the film.
Extra features include 'Still Breathless', a new interview with Valérie Kaprisky which is great to see and a brief interview with critic, Mark Kermode, which really isn't. I guess I've got spoiled recently by really top-notch critics like David Cairns on Blu-Rays, and Kermode waxing lyrical about anything is rarely a reliable indication.
So a bit of a mixed bag. However, if you personally like the film, then this Blu-Ray edition, which shows it to its best advantage, may be a very welcome release.