Kämpfer: Series And OVA Collection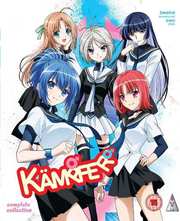 He just got into the pants of the hottest girl in school... he is the hottest girl in school!
Certificate: 15
Running Time: 362 mins
Retail Price: £34.99
Release Date: 2016
Content Type: TV Series
Synopsis:
Waking up transformed into a beautiful girl might be the stuff of some guys' fantasies, but when the suddenly effeminatized Natsuru is informed by a stuffed tiger that he's now a Kampfer, a mystical fighter who has to fight other Kampfers in female form, his life becomes a living nightmare!

Putting aside the obvious "plumbing" issues, Natusru's best childhood friend turns out to swing the other way and SHE has a crush on his new female body. Not complex enough? Natsuru's school has separate sections for boys and girls, so he and she are now double enrolled. The rumor-mill has it that he's dating herself. And there are other Kampfers attending the school who want to "take her out," and he's not sure which ones mean "on a date" and which ones mean "permanently." Oh, and did we mention that some Kampfers use swords and gun?! Hormones, fists, and other body parts will fly as the daring, new gender-blender defender must become a contender or die!

Contains episodes 1-12 + OVA episodes 1 & 2.
Special Features:
Amazing Bowel Familiars Short Animation
Textless Credits
Trailers

Video Tracks:
1.78:1 widescreen 1080p

Audio Tracks:
DTS-HD MA 2.0 Stereo Japanese

Subtitle Tracks:
English

Directed By:
Yasuhiro Kuroda

Written By:
Kazuyuki Fudeyasu
Toshihiko Tsukiji

Starring:
Marina Inoue
Nana Mizuki
Yui Horie
Yukari Tamura
Kana Asumi
Kaori Nazuka
Kenji Utsumi
Mamiko Noto
Megumi Nakajima
Michiko Nomura

Music From:
Tatsuya Katou

Director of Photography:
Hiroshi Yoshida

Editor:
Mutsumi Takemiya

Producer:
Akihiro Kurita
Katsumi Koike
Takeshi Tanaka
Yuji Takae

Distributor:
MVM