Chuck Steel: Night of the Trampires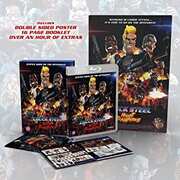 Certificate: 15
Running Time: 90 Mins
Retail Price: £14.99
Release Date: 06/06/2022
Content Type: Movie
Synopsis:
Get ready for the most outrageous stop-motion animated film ever made!! It's 1986, and Chuck Steel is 'the best God damn cop on the force'.

When an abominable evil is about to descend on the city of Los Angeles in the form of Trampires – half tramp, half vampire, only a maverick cop who doesn't play by the rules can save humanity.

Directed by two-time BAFTA-winner Mike Mort and voiced by comedy-legends, Jennifer Saunders (Absolutely Fabulous) and Paul Whitehouse (The Fast Show), this homage to simpler times is "chock-full of snappy one-liners" (Hollywood Reporter).
Special Features:
Audio Commentary from the mastermind of Chuck Steel - Mike Mort
Behind the Scenes with the Animators
Official Making of Video
The Directors acting up again
The Vault of Steel - Armageddon Time, Hard as Hell, Blood, Sweat and Beers, Bunch of Clowns
Raging Balls of Steel Justice (Short FIlm)
Saxon - Back on the Streets (Music Video)
30 Years Later Easter Egg
Chuck Steel: Night of the Trampires Official Trailer
Chuck Steel: Night of the Trampires Woke Trailer

Related Websites:
https://screenbound.co.uk/title-item/chuck-steel-the-night-of-the-trampires/

Directed By:
Mike Mort

Written By:
Mike Mort

Starring:
Mike Mort, Jennifer Saunders, Paul Whitehouse, Samantha Coughlan

Distributor:
Screenbound Pictures Ltd