A Chronicle of the Psychodialetical Universe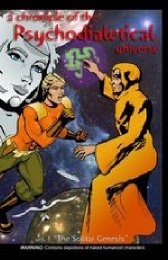 The Solitar Genesis
Authors:
Andrew J Standish

Retail Price (Hardback): Retail Price (Softback):
£3.40
Retail Price (Ebook): ISBN:
9780956277008
First Published:
01/06/09
Related Websites:
www.goodreads.com/author/show/6039390.Andrew_John_Standish

Description:
Graphic Novella:
Psychodialetical: A Universe of Adventure! Snatched from his own world and plunged into an interplanetary war between chaos and order Sean must fulfil an ancient prophecy and become the SOLITAR! But is he destined to be the saviour or destroyer of the Psychodialetical Universe?! Includes the 42 page saga The Solitar Genesis plus a special 8 page story Flashback/Coda revealing how Sage saved Seraphim from Soldark and the Chaosics!
Publishers:
H and C Enterprise Partnership