Trafic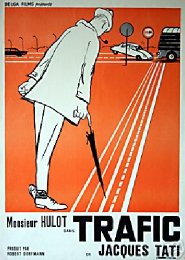 Certificate: U
Running Time: 83 Mins
Retail Price: £15.99
Release Date: 09/11/09
Content Type: Movie
Synopsis:
Trafic was Jacques Tati's final outing as the bumbling, amiable Monsieur Hulot, one of cinema's most beloved comic screen personas, following his appearance in films such as Les Vacances de M. Hulot, Mon Oncle and Playtime.


In Trafic he accompanies his car firm's new vehicle - an absurd Hulot-esque camper van - to a motor show in Amsterdam. This prescient satire on man's obsession with motorised transport mixes wonderful observational comedy with laugh-out-loud moments.


As ever, Tati's subtle choreography of people and objects is a rewarding lesson in how to see the world anew.
Special Features:
None

Related Websites:
http://www.moviemail-online.co.uk/film/dvd/Trafic/

Video Tracks:
1:33.1

Audio Tracks:
Mono

Subtitle Tracks:
French/English/Dutch language with English subtitles

Directed By:
Jacques Tati


Written By:
Jacques Tati
Jacques Lagrange

Starring:
Jacques Tati
Jacques Lagrange
Marcel Fraval
Honoré Bostel
François Maisongrosse
Tony Knepper
Franco Ressel
Mario Zanuelli
Maria Kimberly

Soundtrack By:
Charles Dumont

Director of Photography:
Edward van den Enden

Editor:
Jacques Tati
Maurice Laumain
Sophie Tatischeff

Costume Designer:
Jacques Esterel

Production Designer:
Adrien De Rooy
Hugo Van Baren

Producer:
Robert Dorfmann

Distributor:
Movie Mail Exclusive