Them (ils)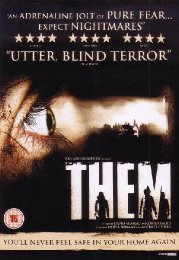 You'll never feel safe in your home again
Certificate: 15
Running Time: 74
Retail Price: £17.99
Release Date: 02/07/2007
Content Type: Movie
Synopsis:
Clementine, a beautiful young teacher and her lover Lucas live an idyllic, isolated exsistence in a large house in the middle of rural paradise. But tonight, that paradise will be shattered beyond all comprehension. Because something is watching. Something is waiting. Something unknown, unhinged and unrelenting.

They are all around, they are in the shadows, and they will stop at nothing to get inside the distraught couple's dark, cavernous home. As blind panic takes over, Clementine and Lucas must face a terrifying test of endurance to discover the true nature of the evil just outside their door - the true nature of "them".

Nerve-shreddingly suspensful and ferociously uncompromising, "THEM" is an all too real journey to the very limit of fear itself. You'll never feel safe in your home again.
Special Features:
• Making of "Them"
• Interview with composer René-Marc Bini
• Clémentine's Ordeal
• Police Press Conference
• Footage Recovered from the Original Location
• The Awful Truth
• Marketing Campaign Gallery

Video Tracks:
Anamorphic Widescreen 2.35:1

Audio Tracks:
Dolby Digital 5.1 Surround French
Dolby Digital 2.0 Stereo French

Subtitle Tracks:
English

Directed By:
David Moreau
Xavier Palud

Written By:
David Moreau
Xavier Palud

Starring:
Olivia Bonamy
Michaël Cohen
Adriana Mocca
Maria Roman
Camelia Maxim
Alexandru Boghiu
Emanuel Stefanuc
Horia Ioan
Stefan Cornic
George Iulian

Casting By:
Floriela Grapini
Guillaume Moulin

Soundtrack By:
René-Marc Bini

Director of Photography:
Axel Cosnefroy

Editor:
Nicolas Sarkissian

Costume Designer:
Elisabeth Mehu

Producer:
Richard Grandpierre

Distributor:
Castel Films