Bless The Child (US)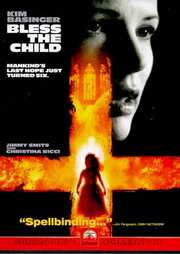 Mankind`s last hope just turned six
Certificate: R
Running Time: 107 mins
Retail Price: $29.99
Release Date:
Content Type: Movie
Synopsis:
In the tradition of The Sixth Sense and The Omen comes this riveting supernatural thriller filled with spine-tingling chills and white-knuckle suspense.

Academy Award Winner Kim Basinger stars as Maggie O`Connor, a single woman whose life revolves around her career as a nurse - until the surprise appearance of her sister Jenna (Angela Bettis) and Jenna`s newborn baby girl, Cody. When Jenna suddenly disappears, Maggie is left to raise Cody (Holliston Coleman), an autistic child, by herself. But after Jenna returns with a mysterious cult leader (Rufus Sewell) and abducts Cody, Maggie discovers that the child possesses extraordinary powers, powers that forces of evil have waited centuries to control.

Together with a FBI specialist in occult-related crimes (Jimmy Smits), Maggie races to save the life of the innocent girl who may hold the key to save mankind, or destroy it. Co-starring Christina Ricci and Ian Holm, Bless The Child is a thrilling offering for film fans.
Special Features:
Interactive Menus
Scene Access
Theatrical Trailer
Original TV Spots
Exclusive Cast & Crew Interviews
Commentary by Director Chuck Russell and Visual Effects Supervisor Joel Hynek

Video Tracks:
Widescreen Anamorphic 2.35:1

Audio Tracks:
Dolby Digital 5.1 English
Dolby Digital Surround 2.0 English
Dolby Digital Surround 2.0 French

Subtitle Tracks:
English
CC: English

Directed By:
Chuck Russell

Written By:
Ellen Green
Clifford Green
Thomas Rickman
Cathy Cash Spellman

Starring:
Christina Ricci
Angela Bettis
Rufus Sewell
Holliston Coleman
Jimmy Smits
Kim Basinger

Casting By:
Sarah Finn
Deborah Aquila

Soundtrack By:
Christopher Young

Director of Photography:
Peter Menzies Jr.

Editor:
Alan Heim

Costume Designer:
Denise Cronenberg

Production Designer:
Carol Spier

Producer:
Mace Neufeld
Stratton Leopold

Executive Producer:
Robert Rehme
Lis Kern
Bruce Davey

Distributor:
Paramount Pictures