Cherry Falls (UK)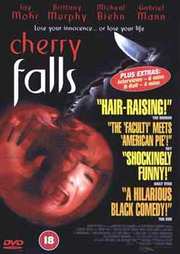 At Virgin High... it`s put out or die
Certificate: 18
Running Time: 92 mins
Retail Price: £19.99
Release Date:
Content Type: Movie
Synopsis:
Cherry Falls is a quiet little town - until the night that a serial killer begins preying on its youth. After a third teen is found slain, the killer`s modus operandi emerges: the victims were all virgins.

Sheriff Marken (Michael Biehn), is concerned for the safety of the teens in general and in particular his own daughter, Jody (brittany Murphy), who is still a virgin.

Once the students realise that to save their skins, they`re going to have to lose their virginity NOW, a meet-and-mate party takes shape. Jody finds herself at the centre of the mystery and the mayhem. As the students` `Pop Your Cherry` ball gets going off-campus, Jody takes matters into her own hands, in more ways than one...
Special Features:
Interactive Menus
Scene Access
Interview
B-Roll

Video Tracks:
Widescreen Anamorphic 1.78:1

Audio Tracks:
Dolby Digital Stereo 2.0 English

Directed By:
Geoffrey Wright

Written By:
Ken Selden

Starring:
Douglas Spain
Jay Mohr
Jesse Bradford
Gabriel Mann
Michael Biehn
Brittany Murphy

Casting By:
Johanna Ray

Soundtrack By:
Walter Werzowa

Director of Photography:
Anthony B. Richmond

Editor:
John F. Link

Costume Designer:
Louise Frogley

Production Designer:
Marek Dobrowolski

Producer:
Eli Selden
Marshall Persinger

Executive Producer:
Julie Silverman
Scott Shiffman
Ken Selden
Joyce Schweickert

Distributor:
Entertainment In Video