Bubblegum Crisis: Vol. 2 (UK)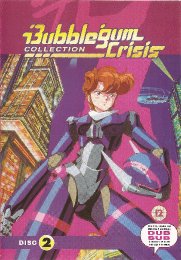 The Japanese Animated Cyberpunk Classic!
Certificate: 12
Running Time: 132 mins
Retail Price: £19.99
Release Date: 2000
Content Type: TV Series
Synopsis:
Megatokyo 2033 A.D.
Like a Phoenix, the city of MegaTokyo is rising from the ashes of a devastating earthquake. In the twisted canyons of the mega-lopolis, the Knight Sabers, a small band of high-tech mercenaries, fight a lonely battle against the evil GENOM Corporation and its sinister android "Boomers".

Largo (Episodes 4-6)
A mysterious black car is hunting down motorcycle gangs, but when one of the Knight Sabers eats asphalt, the hunter becomes the hunted. Then a group of desperate women escape from an orbital facility and crash-land their stolen shuttle outside of Mega Tokyo. Is there a connection between them and a string of "Vampire" murders? Finally, a mysterious figure known as Largo is out to discredit the Knight Sabers using look-alike Boomers - and he seems to know altogether too much about them!
Special Features:
DVD ROM Extra features

Video Tracks:
Standard 1.33:1

Audio Tracks:
Dolby Digital Stereo 2.0 Japanese
Dolby Digital Stereo 2.0 English

Subtitle Tracks:
French
English

Directed By:
Katsuhito Akiyama

Written By:
Katsuhito Akiyama
Shinji Aramaki
Hideki Kakinuma
Kenichi Matsuzaki
Toshimichi Suzuki

Starring:
Yoshiko Sakakibara
Kinuko Omori
Michie Tomizawa
Akiko Hiramatsu
Nozomu Sasaki

Music From:
Koji Makaino