Dirty Mary Crazy Larry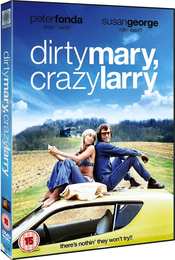 Certificate: 15
Running Time: 93 mins
Retail Price: £12.99
Release Date: 15/09/2014
Content Type: Movie
Synopsis:
Larry Rayder(Peter Fonda) is an aspiring NASCAR driver, Deke Sommers (Adam Roarke) his mechanic.

As they feel they collectively are the best, the only thing that is holding them back is money to build the best vehicle possible. As such, they decide to rob a supermarket's office of the money in it's safe to pursue their dream.

On the most part, their robbery is successful, although their plan breaks down in it's end phase, which doesn't allow them as much getaway time as they wanted.

Another problem they face is an unexpected third person in their getaway, Larry's one night stand Mary Coombs (Susan George), who doesn't like the fact that Larry ran off on her, although she eventually says that she doesn't want any of the money.

With a police scanner and two-way radio in their souped up Chevy Impala, they try to outrun the police, who have an identification of their vehicle, and a general description of the three.

The police pursuit is led by the tenacious Sheriff Everett Franklin (Vic Morrow), who knows he and his team can catch them, but also knows that the three may be able to get out of the state to freedom through a grove of walnut trees, which Larry, Deke and Mary may or may not know.

At every literal and figurative turn, Larry needs to show his superiority as a driver, while trying to ditch Mary, who is a little more resourceful in staying with them than he anticipates.

If you're an aspiring writer/director or just a fan of the cinema,then you have to watch 'Dirty Mary, Crazy Larry'.

The film isn't just another car chase movie of the 70's. It's the car chase movie that borrows heavily (or steals?) elements from films like, 'Bonnie and Clyde', 'Bullitt' and 'Vanishing Point' then mixes them up in such an original way that, 'Dirty Mary, Crazy Larry' becomes the 70's car chase movie, that eventually influenced more popular films of the same genre like, 'Smokey and the Bandit', 'The Blues Brothers' and Quentin Tarantino's 2007 'Death Proof'.

One of the enjoyable experiences of watching this film, is to identify the many different stunts and characters that 'Smokey and the Bandit' and 'Death Proof' borrowed or stole from 'Dirty Mary, Crazy Larry'.

There must be at least three stunts in 'Dirty Mary, Crazy Larry' that Quentin Terantino watched and said, 'I like that!' and wrote it into the 'Death Proof' screenplay.

Other obvious cinema influences are the ego-maniacal sheriff played by Vic Morrow who's obsessed with catching both dirty Mary and crazy Larry. A very funny variation of this character is later played by Jackie Gleason as Buford T. Justice in 'Smokey and the Bandit'.
Special Features:


Video Tracks:
16:9 Colour

Audio Tracks:
Stereo 2.0

Directed By:
John Hough

Written By:
Leigh Chapman

Starring:
Peter Fonda
Adam Roarke
Susan George

Soundtrack By:
Jimmie Haskell

Director of Photography:
Michael D. Margulies

Editor:
Christopher Holmes

Production Designer:
Philip Leonard

Producer:
Norman T. Herman

Distributor:
Odyssey