Virtuosity (UK)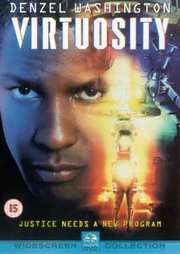 Justice needs a new program
Certificate: 15
Running Time: 101 mins
Retail Price: £19.99
Release Date:
Content Type: Movie
Synopsis:
He is a complex mix of some 200 personalities, each one a notorious killer. He`s Sid 6.7, a virtual reality creation designed to put L.A. police officers to the test. But Sid isn`t playing games anymore. He`s escaped the bounds of cyberspace. And if you think he`s unconquerable in the world of bits and bytes, wait till you see what Sid has in store for a world of flesh and blood.
Denzel Washington and Crowe square off on opposite sides of the law in this thunderous cyber-age thriller from the director of The Lawnmower Man.
Special Features:
Theatrical Trailer

Video Tracks:
Widescreen Anamorphic 2.35:1

Audio Tracks:
Dolby Digital 5.1 English
Dolby Digital 5.1 German

Subtitle Tracks:
Polish
Czech
Swedish
Finnish
English
CC: English
Hungarian
Dutch
Arabic
Danish
Norwegian

Directed By:
Brett Leonard

Written By:
Eric Bernt

Starring:
William Forsythe
Stephen Spinella
Russell Crowe
Kelly Lynch
Denzel Washington

Casting By:
Jane Shannon-Smith
Deborah Aquila

Soundtrack By:
Christopher Young
Ben Watkins
Louis Vega
McGuinnes
Mike Maguire
Traci Lords
Shai De La Luna
India
Stefan Holweck
Lady Galore
Lord T. Byron

Director of Photography:
Gale Tattersall

Editor:
B.J. Sears
Rob Kobrin

Costume Designer:
Francine Jamison-Tanchuck

Production Designer:
Nilo Rodis-Jamero

Producer:
Robert McMinn
Gary Lucchesi
Gimel Everett

Executive Producer:
Howard W. Koch Jr.

Distributor:
Paramount Pictures