Perdita Durango (Uncut) (UK)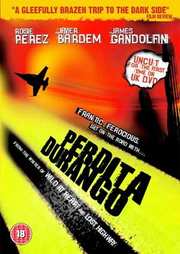 An explosive cocktail of humour, love, sex and obsessive ultra violence
Certificate: 18
Running Time: 125 mins
Retail Price: £15.99
Release Date:
Content Type: Movie
Synopsis:
An explosive cocktail of humour, love, sex and obsessive ultra violence, based on the novel by Barry Gifford, writer of `Wild At Heart`.

`Perdita Durango` will take you on a journey few dare take and from which few will return...

Based on the further adventures of Perdita Durango (Rosie Perez - `Do The Right Thing`), the spirited femme fatale from `Wild At Heart`. Perdita is an unscrupulous woman who loves taking people for a ride and living life to the limit. Romeo Dolorosa (Javier Bedem - `The Sea Inside`), her demonic lover is dark, sensual, highly daring and a shaman. Amid a surge of desert heat and dust the destinies of Perdita and Romeo become one... and no one or nothing can put a stop to it.

Determined to become the most powerful outlaws in the country, Perdita and Romeo are hired by the Mafia to transport an illegal cargo of `human ingredients` from Mexico to Las Vegas. Together the wanton spitfire and her psychic drug-dealer lover set the Tex-Mex border alight with their torrid passions, bizarre kidnapping crimes and black magic rituals.

An excitingly different road movie, spiked with quirky action, mordant humour and twisted terror, `Perdita Durango` co-stars James Gandolfino (`The Sopranos`), Aimee Graham (`CSI`)and Blues legend Screaming Jay Hawkins. From Alex de la Iglesia, acclaimed director of `Accion Mutante` and `Day of the Beast`.
Special Features:
Featuring 5 additional minutes cut by the BBFC upon its original DVD release and presented in its original widescreen ratio; Memo from the BBFC regarding Perdita`s` rocky journey through the censors at Soho Square, `Perdita Durango at the BBFC`; Theatrical trailer.

Directed By:
Álex de la Iglesia

Written By:
Jorge Guerricaechevarría
Álex de la Iglesia
David Trueba
Barry Gifford

Starring:
James Gandolfini
Aimee Graham
Harley Cross
Javier Bardem
Rosie Perez