Red Dwarf: Just The Shows Volume 2 (Series 5 to 8) (6 Discs) (UK)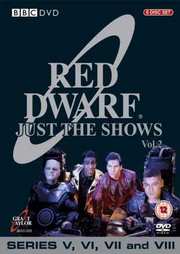 A compilation of Red Dwarf Series 5 to 8, featuring just the shows
Certificate: 12
Running Time: 0 mins
Retail Price: £34.99
Release Date:
Content Type: TV Series
Synopsis:
Series 5 (1992): Classic moments such as Rimmer finally making it into the Space Corps, not to mention Mr Flibble and the first appearance of Cat`s alter-ego, the dreaded Dwayne Dibley...

Episodes Comprise:

1. Holoship
2. The Inquisitor
3. Terrorform
4. Quarantine
5. Demons And Angels
6. Back To Reality


Series 6 (1993): Red Dwarf has been stolen and our intrepid heroes are hot on its trail. Starbug, unable to match its speed, has to take a short-cut to overtake it. Unfortunately this involves going through a very dangerous area which is patrolled by rogue droids that absolutely despise humans. Rimmer creates a a world populated by his clones, Lister gets married, Kryten becomes Sheriff in the Wild West and they meet their future selves who want to kill them.

Episodes Comprise:

1. Psirens
2. Legion
3. Gunmen Of The Apocalypse
4. Emohawk - Polymorph II
5. Rimmerworld
6. Out Of Time


Series 7 (1997): When the generator and its back-up go down in the middle of the night, the crew has to crawl through the mile-long labyrinth of service ducts to restart their engines. On their journey they discover a few surprising things about one another - including what Lister once did on top of a crate of canned asparagus. Meanwhile when two realities converge, the Dwarfers undergo their most terrifying ordeal yet - they bump into a real, live human woman who`s attractive and nice.

Episodes Comprise:

1. Tikka To Ride
2. Stoke Me A Clipper
3. Ouroboros
4. Duct Soup
5. Blue
6. Beyond a Joke
7. Epideme
8. Nanarchy


Series 8: Back in the Red: the crew are reinstated by nanobots!

Episodes Comprise:

1. Back in the Red (Part 1)
2. Back in the Red (Part 2)
3. Back in the Red (Part 3)
4. Cassandra
5. Krytie TV
6. Pete
7. Pete II
8. Only The Good...
Special Features:


Starring:
Chris Barrie
Craig Charles
Danny John-Jules
Robert Llewellyn
Chloë Annett