Page 1 of [VIDEO] Stranger Things: Season 4

[VIDEO] Stranger Things: Season 4
RJS

(undefined)

posted this on

Friday, 6th August 2021, 22:41

RE: [VIDEO] Stranger Things: Season 4
Pete-MK

(Elite Donator)

posted this on

Tuesday, 12th April 2022, 19:39
After a webcam was pointed at a grandfather click with an iPad for a face for 24 hours, the big trailer hit.


I'm just downloading the trailer so I can scan through the fast cuts, but here's an interesting freeze frame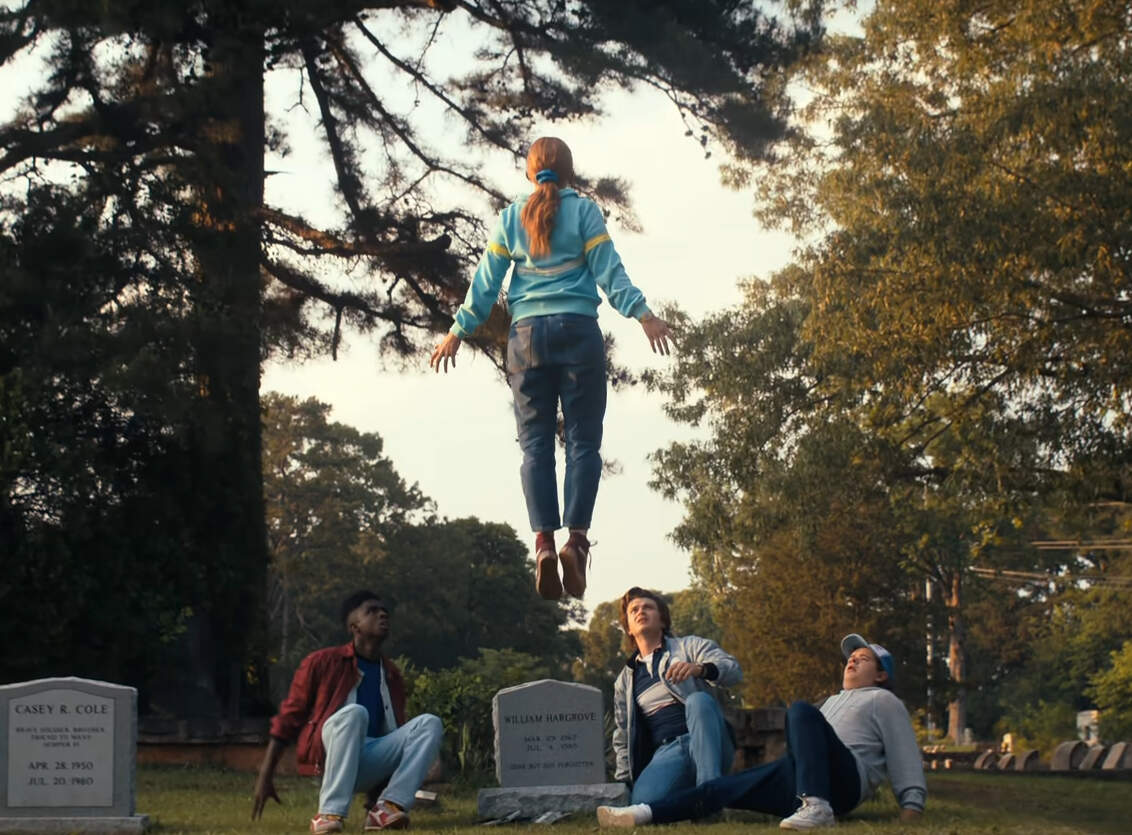 ============================
Writer`s Release
This item was edited on Tuesday, 12th April 2022, 19:42

RE: [VIDEO] Stranger Things: Season 4
Pete-MK

(Elite Donator)

posted this on

Monday, 6th June 2022, 15:17
If you're wondering about what all the Kate Bush fuss is about. This is possibly the mostest awesomest scene created for a TV show ever. I genuinely couldn't breathe until it was over



One thing being talked about a lot is how the scene is a metaphor for Max's mental health & depression after the death of her brother, and how realising her friends were still there for her helped her escape, physically & emotionally. Amazing stuff

============================
Writer`s Release

[VIDEO] RE:Stranger Things: Season 4
Yeah that was clearly the highlight of the season. Sadie Sink pretty much carried the show this year.

Not hard tho since everything else was kind of a mess.

Eddie? Unbelievably annoying in the first episode but thankfully spends most of the season in hiding.
Murray? Shouts every line for some reason. Annoying.
New pot-smoking pizza guy? Annoying and pointless.
Yuri? Another absurd pantomime villain, completely over the top and silly. Same goes for that entire storyline.

Episode 7 was a bit of a chore. The highlight was...

SPOILER:
the Demogorgon finally tearing s*** up after being teased for like half the season
Almost made up for the relentless exposition fest in second half. Admittedly I was distracted trying to figure out precisely which Philip Glass piece they had used for it.

I feel like I'm being overly negative here, when really I didn't hate the season. It's just that the show is just so absurd and over-the-top now. For example, in the first season, Hopper is a small town police chief overcoming the loss of his daughter and becoming a surrogate father figure for Eleven. In season 4 he's still coming to terms with all that stuff, except now he's imprisoned in a Siberian gulag while his girlfriend flies thousands of miles in a rickety old s***box with a suitcase full of money and a wacky sidekick to rescue him, surviving a plane crash in process. It reminds me of this:


Plus there are way too many characters, leaving a bunch of them with barely anything to do. Mike and the gang over in California like:
Hopefully the last two episodes will redeem the season.
I hope they rein it in for the final season, whenever that comes.
---

RE: [VIDEO] Stranger Things: Season 4
RJS

(undefined)

posted this on

Monday, 6th June 2022, 19:23
Just finished the final episode of the first half...

SPOILER:
I loved how it tied everything together! I loved how it explains the opening of the original rift (kinda, or at least how it happened), who Vectnar is, and the Joyce and Hopper reunion.
Really excited for July to come!

I kind of like how the longer episodes allowed them to tell all the parallel stories without killing the pace when switching between them.


Editor
MYREVIEWER.COM

My Flickr Photostream

RE: [VIDEO] Stranger Things: Season 4
alfie noakes

(Elite)

posted this on

Monday, 6th June 2022, 20:10
I understand people may have criticisms, I absolutely loved it though.

I'm glad there will be a 5th season and there is talk of spinoffs...
This item was edited on Monday, 6th June 2022, 20:10

RE: [VIDEO] Stranger Things: Season 4
Pete-MK

(Elite Donator)

posted this on

Monday, 6th June 2022, 20:59
Quote:
Gareth Williams says...
"Plus there are way too many characters, leaving a bunch of them with barely anything to do. "
Sort of agree, and at the moments it's suffering from the Phantom menace problem. But if there's one thing the Duffer's are good at, it's tying up loose ends. The Will/Mike/Johnathan/Argyle sub-plot seems disjointed at the moment, but..

Quote:
RJS says...
"I kind of like how the longer episodes allowed them to tell all the parallel stories "
Episode 407 is 1 hour, 38 minutes; Episode 408 is around 1 hour, 25 minutes; and 409 is almost two and a half hours.

There's plenty of time for the stories to converge, and the useless characters to show why they're there

============================
Writer`s Release

RE: [VIDEO] Stranger Things: Season 4
RJS

(undefined)

posted this on

Friday, 1st July 2022, 21:45

RE: [VIDEO] Stranger Things: Season 4
Pete-MK

(Elite Donator)

posted this on

Saturday, 2nd July 2022, 18:22

RE: [VIDEO] Stranger Things: Season 4
RJS

(undefined)

posted this on

Saturday, 2nd July 2022, 22:19